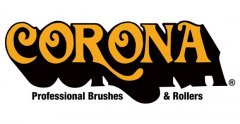 Corona Brushes
Quality. At Corona, we carefully craft our brushes and rollers to meet not just our high standards, but also yours. For us, quality means taking pride in what we create. It's an old-fashioned concept, but one that has guaranteed our customers the finest tools for over 50 years.
Ingenuity. Providing customers with unsurpassed quality decade after decade requires the ability to embrace change with ingenuity resourcefulness, and vision. We have built our reputation for unique painting products by applying new approaches and the most current techniques to meet customers' changing needs.
Hard Work. What started as a small family business has grown and prospered over the years due in great part to Corona's heritage of hard work. For our customers, this tradition translates into superior products and outstanding quality that have also become part of the Corona legacy.