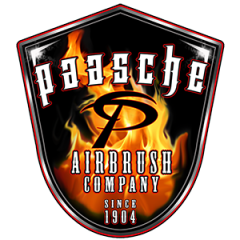 Paasche
Paasche Airbrush Company continues the legacy left by its founder Jens A. Paasche with the ultimate in quality control. Continuing his insistence that every airbrush be inspected prior to shipment, they are manufactured and assembled at the factory in Chicago, Illinois.
The original factory was constructed in Chicago in 1922. It was subsequently expanded three times. In 1984, needing more space for the ever increasing demand for airbrushes and industrial spray equipment, the factory was relocated to Harwood Height, Illinois. Harwood Heights is a northern suburb of Chicago. We moved back to Chicago in 2005 and that is where we are currently manufacturing and assembling our line of airbrushes and industrial spray paint equipment.
Paasche Airbrush is currently operated by Jens A. Paasche's grandson John Paasche Pettersen, his wife Vallie Pettersen and their twin sons Brian and Steven Pettersen. Paasche Airbrush Company is proud to be an American company, proud to be accepted nationally and internationally. We celebrated our 100th year in 2004 and hope to continue the legacy left by Jens A. Paasche far into the future.